I'd avoided it for a long time; I'd been living in London a while and thought mobile phone owners were tossers. I persevered with a British Telecom pager for a while. But I eventually invested in an Ericsson PF768 (although mine was black).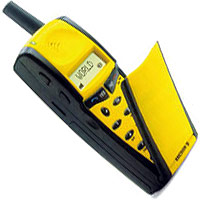 I also remember, when I signed up for the plan, the salesperson offered an option called 'short message service', for an extra £1/month. He outlined how I could send little text snippets to other phones.
His pitch sounded half-hearted. But at the time I was thinking: "Fuck, it's like email, but it arrives on someone's phone. Instantly. Brilliant!" When I first sent one of these it was like voodoo. Six months later, it had completely exploded and everyone was at it.
If I had a gram of business acumen, I'd be rich by now.